I want to share these 11 types of online jobs with you.
Before starting I wanted to point out, that there are many others. (We will see them in the next articles!)
A very important fact to keep in mind is that many jobs are disappearing as the digital age. (Also partly due to COVID-19)
A striking example in America is the employees who work in the office.
Many of them can work from home without any problems; this also happens in many other states.
Such a speech can be applied to all those professions that do not require the physical presence of the person, but only a computer and access to the Internet.
Nowadays it is very important to keep up with the times and keep up to date on all the opportunities that the Web can offer.
For those who want to work in the digital marketing sector, it can take months to see the first earnings, but once they arrive they double, multiply….
What you need to get started is willpower and accept that you have to work harder than an employee.
1. Translator
You will act as a communication intermediary between the company and its customers.
It involves translating written texts from one language to another.
Translations can be of various types:
Books

Press releases

E-mail

Contents of a website.

Documents of a company

Legal documents.

Etc…
Your task will also be to take care of spelling, grammar, and use words suitable for the text.
Pay attention to colloquial expressions that do not have an exact match in another language.
The result of the translation must be a text that is easy and understandable to read and conforms to the original.
Native translators who translate from a foreign language to their native language are often searched for in job vacancies.
2. A blog focused on selling products or services
I know, those looking for work from home might tell me:
When do I get the "salary"?
Well, I don't want to tell you it's a get-rich-quick method, but it has a very high earning potential.
The tools to get started are:
A hosting service

(there are many on the market:
WHAT DOES IT MEAN?
If you promote affiliate products, for example, on the pages of your site, you will want them to be visible on Google.
To achieve this, you first need to check with a keyword research tool how many bloggers like you have used the same query/post title.
If they are below 100, your posts are more likely to rank on the first page of search engines.
Once this is achieved, you will enjoy great benefits.
For example, let's say your blog appears on the first page of Google for an article where you have reviewed some gym equipment …
… That page is viewed, for example, by 100,000 people or more per month, where you sell a product not yours, but affiliated with AMAZON and earn a 5% commission.
Let's assume the cost of the gym equipment is $ 500.
So, the 5% you earn equals $ 25 per single sale.
Out of 100,000 people, they usually only buy 1% or 1000 units.
Multiply $ 25 × 1000 = $ 25,000
ATTENTION IT'S NOT THAT EASY BUT:
Whether you watch YouTube videos or buy courses on SEO or MINDSET, keep in mind that by chance you don't get results, but you will have to study and test.
A beginner doesn't earn these sample figures overnight, but it will take some time: months, 1 year, 2 years, or more …
To simplify everything and reduce your initial costs to $ 0, today is your chance to get everything you need. (Quality tools, hosting, and website)
Find out how by reading this review:
>>> HOW TO START YOUR BLOG FOR FREE <<<
3. Data entry
If you search for example on INDEED you can find job offers where companies look for people to enter their customers' data in a database or to move them from one place to another.
It is not a job that requires special technical skills, but if you have already used some writing program with your PC, you should not encounter many difficulties.
Given the great simplicity of this job, many people apply for the related offers.
Unfortunately, salaries are very low, except for some companies which are willing to pay more based on the amount of work done.
4. Dropshipping
Build your entrepreneurial career from home by creating an online store.
With "dropshipping", you can make money from the first month, but in most cases, you need a budget to invest in advertising.
It is not necessary to have a warehouse and inventory; you don't even have to worry about order logistics.
Orders will be sent directly to the supplier (Dropshipper) who will take care of shipping the product to the customer.
So the items will not be physically seen by the seller (the one who opens the dropshipping shop) as he does not own them but acts as an intermediary between customers and suppliers.
SUMMARY:
The buyer sees the product in an online store (e-commerce), but then when they click on buy, the order will be processed directly by the supplier.
This system is affordable and you can start making money with your online store quickly.
The greatest difficulty will be identifying the right product, that is, the one that is already selling, but which is not yet saturated on the market …
When you are a beginner you tend to sell products that are quite accessible to everyone (under $ 100):
Beauty

For the House

Car accessories

Clothing

Etc.
Once you gain experience, you can move on to promoting products for $ 1000 and beyond.
5. Create your online courses and live on passive income
With the era of digital marketing traveling hand in hand with that of COVID-19, you will have noticed that online job opportunities are increasing exponentially.
As a result, online course vendors have increased.
AND WHY CANNOT YOU DO IT TOO?
Think about what you do best

. (In some cases it can coincide with your job, your hobby, and your passions)
Do some

market research

to see if there are already people interested in your topic.
Prepare a

lineup of content

. A course usually lasts several hours because it is necessary to deepen every single point.
Divide the lessons into modules

, for example, module 1 contains 10 lessons, module 2 contains 8, and so on …
USEFUL TIPS FOR THOSE STARTING FROM 0:
Once you have a clear idea and have already created a draft of your content, take a look at the Teachable platform.
It allows you to create a school with an unlimited number of courses.
The cost of the basic service starts at $ 39 per month and can contain more than 1000 different courses.
For starters, Teachable is a great solution, log into your account admin area and click on:
"CREATE COURSE"
Next, follow all the instructions you find until the whole creation process is complete.
When your course is ready for sale you can take advantage of platforms such as Thinkific.
It offers a complete software solution to create, delivers, market, and sell online courses.
6. Sell third party products or services
Leverage Affiliate Marketing As An Online Job!
You have less responsibility and no management or logistics fees.
There are several ways to sell other people's products, but first, you need to get their consent, thus getting your personalized link and including it in your promotions.
Check out this post to understand how affiliate marketing works.
For example, if you have a YouTube channel, you can make a video about a certain product and insert your affiliate link in the description.
Or in your social channels, emails, or blog posts.
7. Copywriter
It's not just about writing a simple review, but you need to be a creative person with lots of ideas to work on.
Before becoming a good copywriter it is necessary to write for a few months to acquire the necessary knowledge.
You will see that in a short time you will acquire a greater command of writing.
For example, when I lost my job as an employee, I started writing my first reviews to earn some extra bucks during unemployment.
But I didn't get the desired results, indeed after 2 months I reread what I had written and thought:
"EVERYTHING TO REDO!"
Don't worry if it happens to you too, as it is difficult to "be born learned" but you will first have to test and modify if necessary.
Fortunately, the copywriter's job is not like that of the writer, but it is very simplified:
You have to write in a simple and friendly way.
Very short paragraphs, maximum 4 – 5 lines, leaving empty spaces.
Put pictures and links to your product if you sell something.
These are just 3 fundamental points of copywriting, but to be more exhaustive I should dedicate a post only to this topic.
However, whatever your means of sharing (Social, post blog, email …) you must create content in which to share your experiences, passions, skills.
Through the contents you have to create an image, your brand: people recognize you compared to the mass for certain qualities and therefore they will trust you.
What I just told you is perfect for anyone who wants to become a digital entrepreneur.
In this case, you may not have the time to write and therefore you will have to delegate the work to freelance writers.
But you can also consider writing texts for other companies and get good pay.
The more experience you have, the more you earn!
One of the largest platforms in the world where you can work as a copywriter is Upwork.
Do you need a copywriting course? Check out the AWAY.com website!
If you are tired of being dependent on others and want to seriously pursue a career as a copywriter starting from the basics to the most advanced levels, check out one of the best courses related to the subject:
VISIT THE OFFICIAL WEBSITE AWAY.com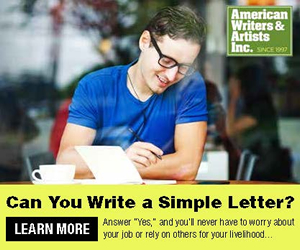 8 Earn money with Fiverr
It is a platform where you can buy or offer services.
Different types of paid jobs are offered. (Gigs).
Many people work with Fiverr from the comfort of their home!
Again, the "pay" will depend on your skills.
You can simply earn extra money or a decent salary; the average rate for a job/service performed is $ 5.00.
Even if it seems like a small thing to you, keep in mind that many customers who buy services on Fiverr order "extra gigs".
This way, the more activities you add, the more your earnings will increase. (Up to $ 100 and even up to $ 500 maximum per "gig")
You may be wondering if this platform is suitable for beginners.
The answer is yes.
To get started, fill out the registration form with your details …
For example, you could start by creating logos for websites; Search for a tutorial on YouTube and practice it multiple times, then start offering your service.
Of course, this is just an idea, but there are over 100 job categories and over 4,000 services.
You have to consider that starting from 0 it will take longer to make you known and get positive reviews!
The services offered and the "gigs" sold include:
Advertising and promotional campaigns.

Funny videos

Graphics

Advertising

Social networks

Translations, and writing.
9 Online tutoring
Online tutoring is a job that has grown a lot in recent years.
It is suitable for teachers who just want to earn extra income or for those who aim for a regular monthly salary.
Years ago, most tutors worked in middle schools, high schools, vocational training centers, colleges, and universities.
But some give private lessons in their own home or student houses.
Their job is to assist students who encounter difficulties in certain subjects and prepare them for passing tests
SAT, ACT, GRE, GMAT, MCAT, and other college entrance tests.
They can now also offer their service online and work from home, using a PC and an Internet connection.
For example, many of them use Skype as an interaction tool.
10. Website designer
He is a figure who deals with the process of creating and designing a website. (Images, text, digital media, and interactive elements)
All of these elements are used by web designers to produce eye-catching web pages.
They know how to write using HTML code; CSS and Javascript.
They also have a good understanding of SEO and keyword strategies.
Most companies looking for web designers hire people who have experience in the latest version of Adobe Creative Suite, including InDesign, Illustrator, Photoshop, and Dreamweaver.
In simpler terms, this is a very technical job, because through technologies it is possible to give a visual impact that positively affects the brand of a company or a freelancer.
You will find several jobs offers online. Check out Flexoffers
11. Social Media Manager
Manages marketing and advertising on a company's social channels and implements strategies to seek out new potential customers.
Lately, with times of crisis, many people are taking online courses to pursue this type of online career.
But despite this, he is always a highly sought after figure and a job that can bring excellent earnings.
Some think that the Social Media Manager only publishes some posts on Facebook, Twitter, or Pinterest, but that's not the case at all….
The Social Media Manager includes different skills: objectives to be achieved, strategy, and planning.
It is also an activity related to SEO, blog posts, and web design.
Based on a budget that is made available to him by the company, he studies and implements a content strategy to attract new people interested in the services of a company.
He will take care of the creation and management of Social Media Advertising campaigns and based on the results obtained he will have to optimize the subsequent strategies.
To become a Social Media Manager you have to study for a few months, gain experience (sometimes even for free) with someone who then leaves you good references.
When you can work independently, you could earn more than a normal employee.
BEWARE OF "ONLINE TRADING JOB ADS"
Online trading is not a beginner's job, but it does require experience.
Also, there are many scams on the web, so be very careful!
If you want to have your first experience in the field, I suggest you read this article.
6 more jobs you can start doing from home
Call center

Online surveys

Virtual assistance: offers support services to third parties or companies from a remote location.

Web developer: creating websites for other people.

Travel agents

Medical transcribers: prepare the doctor's notes in the form of formal and legal documents. Opportunities to work from home doing this job are now expanding.
I've tried the first 2 in the past, but they pay you a pittance, so I'd rule them out.
With the other professions, however, the earnings are not bad and if you have the necessary skills you could start right away.
In this article, if you remember, I mentioned FlexJobs for job postings as a web designer, but you can use this site to find other jobs.
Sign up for FlexJobs and take a look at all the available jobs that you can do anywhere in the world.
Conclusion
These 11 types of online jobs will allow you to manage your time however you like, without having to respect schedules and bosses.
They are also suitable solutions for those who just want to earn some extra money.
I advise you not to use too many of these strategies but to focus only on one until you acquire all the necessary skills.